We have available Big Boy Racing ported and polished cylinder heads for '96 to '03 Mustang GT. We also have a stage 1 package for '96 to '03 Cobra/Mach 1 Mustang. All setups have been dyno proven and flowbench tested (I will be posting dyno graphs on the stage 1 package soon). All stage 1 packages for the SOHC and DOHC have been proven to make big horsepower over stock and are "sniffer friendly". We can install all the mod. motor parts we sell. These packages will turn your GT or Cobra into a street-strip monster!
4.6 SOHC ported/polished heads
Stage 1 head package includes competition porting, comp. valve job, Ferrera forged SS oversized valves, new guides, and 7000 RPM spring package. This package is good for another 35-40 HP. If you combine the stage 1 cams with the stage one cylinder heads and all the basic bolt-ons, you will make an extra 80-100 HP and run mid to low 12's at the track on pump gas! (Your heads exchange.)
$1,280.00
Flow Numbers:
Stock SOHC heads
180 intake
130 exhaust
500 lift
Big Boy Racing competition heads:
230 intake
185 exhaust
500 lift
As you can see, the heads are opened up quite a bit, which makes a huge performance improvement over stock. These cylinder heads with a built short block will pull hard to 8,000 RPM!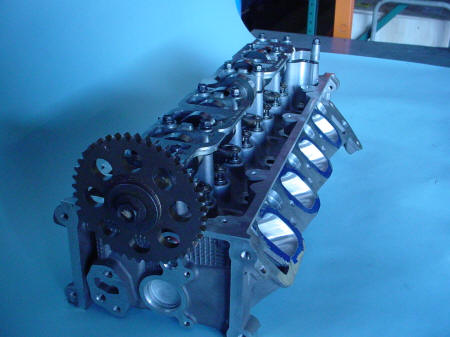 4.6 DOHC ported/polished heads
Competition porting, competition valve job, Ferrera forged SS bigger valves, Cobra spring package, super flow bench tested, 45-50 RWHP gains over stock heads. Optional: Ferrera 8000 RPM springs with titanium retainers. If you add stage 1 cam shafts to this setup, your Cobra/Mach 1 will make 350-370 RWHP and will have no problem running deep into the 11's at the track on pump gas. The DOHC heads become monsters when you open them up and feed them the correct custom cams. (Your heads exchange.)
Stock DOHC heads
265 intake
200 exhaust
500 lift
Big Boy Racing stage 1 competition DOHC heads:
310 intake
225 exhaust
500 lift
*(call for pricing on DOHC options)
Big Boy Racing pro built modular long block